Season's greetings!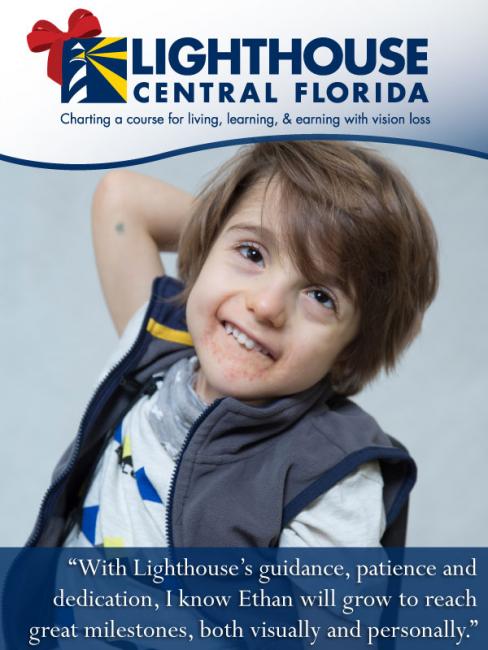 Season's greetings!

This is the season for joyous celebration and grateful reflection on what the past year has brought us! My name is Michelle and, let's face it, sometimes these sentiments can get clouded in the manic rush of the holidays.

I want to take a moment to briefly tell you about my family's journey with Lighthouse Central Florida—it's a journey for which I am especially grateful and it has a lot to do with YOUR continued support of this critical community resource!

My five-year old son Ethan, was born with a complex genetic disorder known as CHARGE syndrome—it's one of the leading causes of deaf-blindness. In Ethan, the disorder manifests as an ailment called Coloboma which has prevented both of his optic nerves from fully forming.

Ethan's Coloboma is quite extensive. It has affected his peripherals, his upper quadrant of vision and the vision on his left side severely. He has issues with seeing curbs, depth perception, small objects and running into walls—primarily on his left side.

Lighthouse has been an amazing resource for Ethan and our entire family. Ethan has been a part of Lighthouse's Early Intervention program since he was six months old. Through their services Ethan has had weekly/bi-weekly visits with trained, professional mentors who help him utilize the vision that he has and learn to navigate the world through play in a safe and productive manner.

Lighthouse is the only source of vision services that Ethan receives. Ethan's Lighthouse team has made it a point to get to know him. This is so important. They are aware of his cues, his likes, his dislikes and what motivates him most to work. Ethan is non-verbal—so this is no easy task.

When you have someone working with your child, no matter what the discipline, it makes a world of difference if they take the time to see past the disorder/disability and see your child as an individual first. Lighthouse does this in spades!

I'm writing to ask you to renew your support of Lighthouse Central Florida today, during this season of giving. Your donation of $50, $35, or anything you can comfortably afford, will help restore hope while delivering crucial, no-fee services to families like mine. Services that are only available through Lighthouse Central Florida.

With Lighthouse's guidance, patience and dedication, I know Ethan will grow to reach great milestones, both visually and personally. It has been a joy to welcome Lighthouse Central Florida into our home and allow them to become a part of our family. Thank YOU for YOUR support of this critical organization!

THANK YOU!
Michelle Gomez
Ethan's mom