A New Year is Right Around the Corner!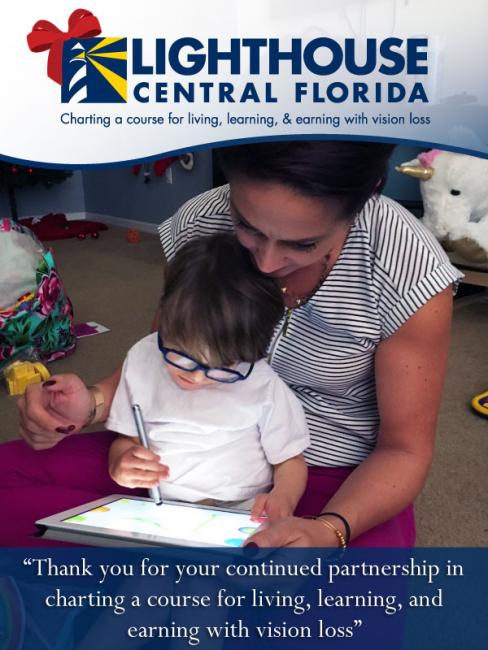 Season's Greetings!
Some of you may know me in my role as head of Lighthouse Central Florida/Lighthouse Works!--the region's only vision rehabilitation agency and social enterprise nonprofit--empowering Central Floridians who live with blindness or any degree of vision loss.   
As the mother of a son who is blind, my entire career has been fueled by personal conviction and a desire to empower individuals who are blind and visually impaired to live with dignity, independence and fullness of opportunity.
You may have seen a recent holiday message from Michelle Gomez about her five-year-old son, Ethan, and about their time with our Early Intervention (EI) program.
Kasey (pictured above with Ethan), is his EI mentor and is part of a dedicated team of certified professionals who help children, like Ethan, meet key developmental milestones and break through the restrictions once promised by vision loss.   

Not only do we provide critical instruction to these wonderful children, we also train and educate family members to effectively interact with and advocate for their loved ones and empower them to be their very best selves--equipped with the skills they need to be life-long learners and productive, contributing members of society. 
Time is running out to give a gift that restores hope and empowers individuals of all ages who are living with vision loss. Your gift today is tax-deductible for 2017 and will help us prepare for all the challenging work we face in the New Year.
Won't you give one last gift this year and help us increase our reach in providing life changing, vision specific education, vision rehabilitation and employment services to Central Florida's community of blind and visually impaired.
If you haven't yet read Michelle and Ethan's story, you can read it here: Together YOU & Lighthouse Are Helping My Son | Thank YOU!
As always, thank you for your continued partnership in charting a course for living, learning and earning with vision loss.
Wishing you a safe and happy New Year!
Sincerely,
Lee Nasehi
President & CEO