A Magical Milestone at Lighthouse Works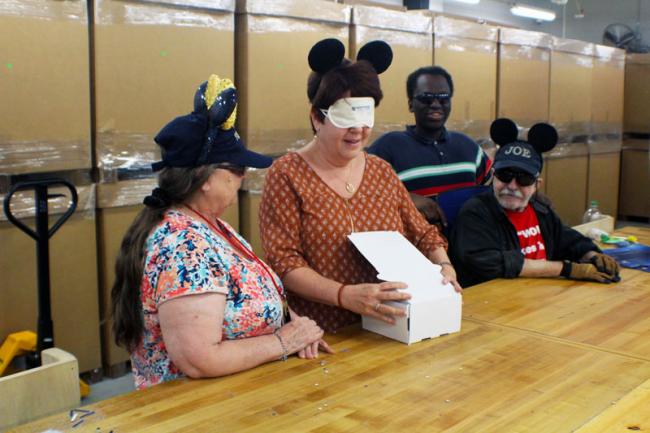 Last September the Supply Chain team at Lighthouse Works reached a significant milestone when they assembled their 1-millionth MagicBand Box for Walt Disney World. MagicBands are colorful, waterproof wristbands—resembling a watch or bracelet—that Disney patrons can quickly and easily touch to a sensor to digitally access the theme park's plans and vacation choices.
Lighthouse Works won a competitive bid last year to pre-assemble the boxes for Disney. On June 11th the Supply Chain team hit the two millionth box mark! Lighthouse CEO, Lee Nasehi was invited to do the honors and assemble the two millionth box.
The accomplishment was a source of tremendous pride for all Supply Chain team members as well as all Lighthouse Central Florida and Lighthouse Works staff.
"Our focus on quality, performance and value has helped us secure contracts with various agencies and organizations including Orange and Seminole County and many others," said Kyle Johnson, Vice President, Chief Sales & Marketing Officer, Lighthouse Central Florida/Lighthouse Works. "For our team, this work means independence, pride, a life of purpose and financial self-sustainability."
"We do work hard. We are very skilled individuals and dedicated individuals and we always do the best that we can," said Carol Davis, Fulfillment Specialist at Lighthouse Works.
"To come here and know that I'm doing a project for Disney and making people happy, that's what I like. I love customer service!" said Ned Moye, Fulfillment Specialist at Lighthouse Works.
With the mission of, Empowerment through Employment!—Lighthouse Works began as a vision to establish a company with a powerful double bottom line: 1) create competitive employment opportunities for the many working age blind and visually impaired adults throughout Central Florida; and 2) drive real business, for real customers and generate re-deployable net revenue.
Read an article from Disney's Eyes & Ears magazine which highlight's the business relationship between the theme park and Lighthouse Works: The Power of Partnership
For more information on what Lighthouse Works can do for your company please contact Kyle Johnson at 407-898-2483.