A Grandmother's Most Precious Gift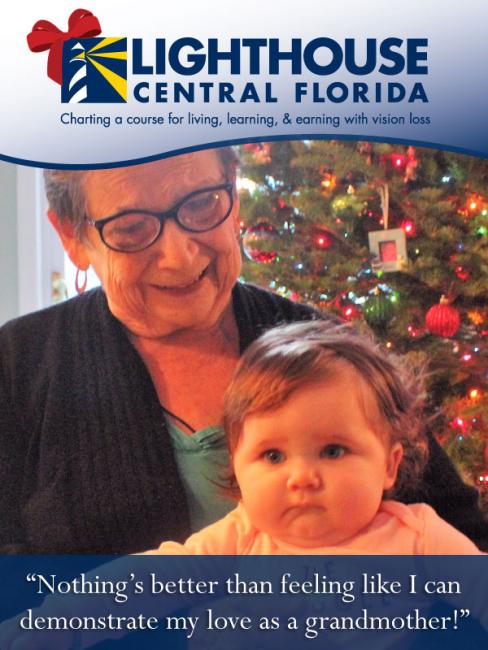 Dear Friends of Lighthouse Central Florida,
More than three decades ago my husband and I came to Lighthouse Central Florida seeking services for our eldest son, Joe. My family learned first-hand how the vision rehabilitation services truly change lives of children, adults and their families. Lighthouse empowers everyone who is challenged by visual impairment and blindness to see what's possible beyond vision loss.
As the President and CEO of Lighthouse Central Florida for the last 20 years, I've been honored that this organization has changed tens of thousands of lives – including Esther.
Here's her story:
Esther is an active 75 year old who has a visual condition that inflames the tissue in her eyes and causes her vision to blur. Before her husband passed away, Esther relied on him for accomplishing her daily tasks. Alone, she wondered how she would overcome the challenges of her vision impairment and remain independent and continue the most enjoyable activities in her life like being a grandmother.
"When I found Lighthouse this year I soon rediscovered my confidence and a renewed sense of independence. I took classes that showed me that I could continue to cook, do laundry and take my medications, all on my own and in my own home."
"At Lighthouse, I also learned how to safely move around my community so I could continue to take afternoon walks in my neighborhood—an activity my late husband and I enjoyed doing together."
"Upon the joyful birth of my second grandchild, Maci, my son and his family moved into my home and it was important to me that I be able to safely and confidently help with her care. One of the professional instructors from Lighthouse, Sharon, came into our home with an infant-sized doll and baby supplies. She spent several hours teaching me techniques for changing diapers, making bottles, and the best ways to prepare meals for Maci."
"I can't express the joy I felt when I was finally able to use these skills. It brought tears to my eyes! Nothing's better than feeling like I can demonstrate my love as a grandmother!"
Your support of Lighthouse makes stories like Esther's possible.
I know that you appreciate the value of family and the importance of restored hope through the empowerment of children, adults and seniors. That is why I'm asking you to renew your support of Lighthouse today, during this season of giving.
Your donation of $50, $75, or the amount you choose ensures that every person like Esther has access to life changing services without financial barriers. Lighthouse Central Florida is the ONLY provider of these services in our tri-county area. With YOUR support, lives are changing for the better.
Best wishes for you and your family during this holiday season. THANK YOU for your gift of a life empowered!


Lee Nasehi Mother/Advocate