Code Jumper: "Instant and Sustained Engagement!"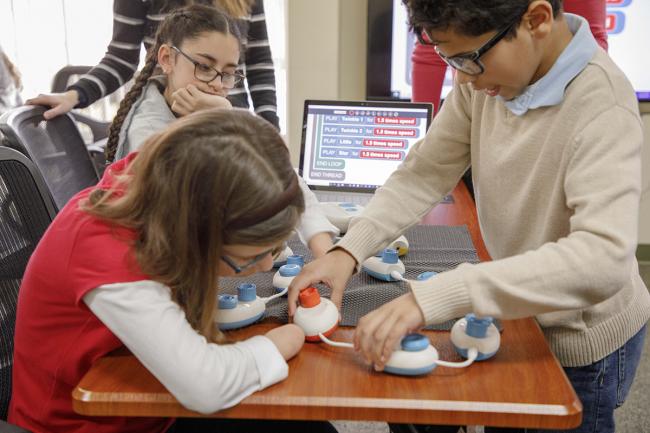 Students with Lighthouse's school-age program recently had the opportunity to demo a cool device known as Code Jumper. The technology was created by Microsoft and is meant to teach the fundamentals of coding to users who are visually impaired. The American Printing House for the Blind, a nonprofit in Louisville, KY, that creates and distributes products and services for people who are blind or low vision, is the primary distributor of Code Jumper in North America. APH and Lighthouse have partnered on a number of initiatives in the past in support of each other's mission.
To hear a news story on Code Jumper featuring Lighthouse Central Florida CLICK HERE!
Code Jumper: "Instant and Sustained Engagement!"
Blog Post from the "FRED'S HEAD, FROM APH" Blog
In January, American Printing House (APH) let a small group of students in Florida experience the future of computer coding. Gathered around tables at an after-school program, students fiddled with the "pods" that make up Code Jumper, an accessible way to learn computer coding.

Developed by Microsoft and distributed by APH, Code Jumper is a way for students to learn coding by touching and listening. With Code Jumper students plug pods into each other to create lines of code. By building their codes, students can play music, tell stories and crack jokes.

"After observing our students interact with Code Jumper, I was most struck by their instant and sustained engagement and interest," says Kyle Johnson, President of Lighthouse Central Florida. The children's program at Lighthouse encourages socialization and independent living skills for children who are blind or visually impaired.

"Any time STEM-focused activities can be introduced to young people in a fun and interactive way, I believe an educational gap is being filled," explains Johnson. "STEM learning provides unique approaches to problem-solving and system design. Vision rehabilitation is characterized by adaptation much like the scientific method relies on testing and trial and error."

The goal of Code Jumper goes far beyond learning computer coding – the goal is also to give students the underlying skills they need to lead to a career in computer science.

"This is an opportunity for thousands of people to have meaningful and well-paying jobs," says Larry Skutchan, Director of Technology and Product Research at APH.

He says coding is an equalizing field for people who are blind. "We've never really had anything that's been able to give students so many different ways they can experiment and learn about coding, and it translates so well into actual skills."

Johnson with Lighthouse also thinks Code Jumper will help direct more people to related jobs. "For students with visual impairments, career education and exploration need to begin as early as possible. This is essential because these students cannot casually observe these jobs like their sighted peers. STEM-based careers, including computer coding, are lucrative, in-demand and projected to remain relevant well into the future."

APH will be selling Code Jumper by the 2019-2020 school year. To learn more, or get on a waiting list to order, visit codejumper.com.