Giving Thanks for YOUR Support of Lighthouse!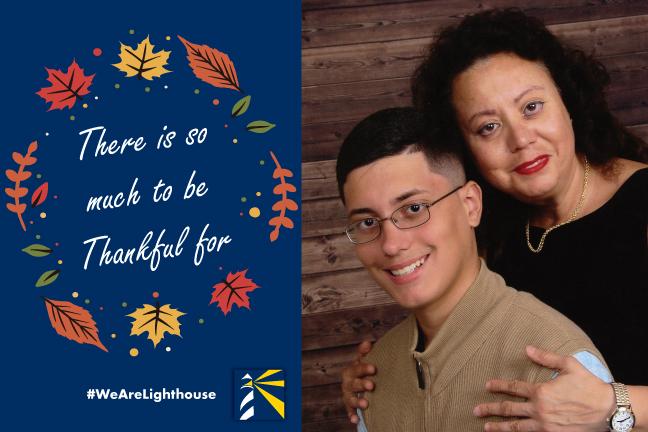 Dear Friends,
My name is Nelida, I am a single mother living with vision loss due to Glaucoma and employed as a Customer Care Professional at Lighthouse.
When I was in the midst of my despair with the painful reality of losing my vision as an adult, I was introduced to Lighthouse. Their services returned my freedom, independence, and my purpose.
I was invigorated when I saw instructors who were visually impaired or completely blind with master's degrees in their respective fields. I knew then that the sky is limitless. If they could do it, so could I. They never gave up on me, and I am eternally grateful. Currently, I am completing my Master's Degree in Spanish Literature!
The more I learned, the less I depended on my only child, whom I love and adore. My son, Jose Manuel, is finishing his degree at Valencia College and will study Finance at UCF. I am extremely proud because he has been there since my vision loss started.
This holiday season please consider making a donation to Lighthouse. Their services have been critical throughout the pandemic. Your support not only helped me, but gave me hope for my future.
Give today and your gift will be doubled through a generous matching grant from the Joseph G. Markoly Foundation.
Thank YOU for your support!
Nelida