'Tis the Season for THANKS!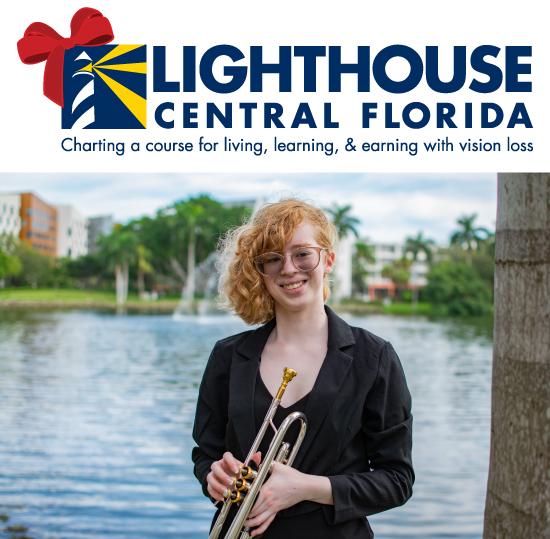 Dear Friends,
My name is Izzi Guzman, and I'm an 18-year old sophomore college student diagnosed with Albinism and Congenital Nystagmus. I participated in Lighthouse's Transition Program for two years. At a young age, I met people that gave me lifelong opportunities to pursue my passions. This didn't happen overnight, though. I owe all of my thanks to Lighthouse Central Florida.
It's with all of the skills and services made possible through YOUR support of Lighthouse that I was able to set forth to college with confidence. I graduated high school early with honors, and I am attending two colleges to get into the career field I really care about – music education.
Being a part of the Transition Program's summer camp last year, which was held remotely during the early stages of the pandemic, sparked my passion for teaching. Not only did we persevere, but we soared!
Now as a sophomore in college, I have no uncertainties of what I can do. I'm not only a musician and future educator, but also a graphic designer – a skill that I never thought I would pick up with a visual impairment. I am a guiding light to new students to help them make the most out of their freshman year like I did. I will need extra tools in order to succeed, but no longer am I scared to be the odd one out after being in the Lighthouse environment for most of my time in high school.
Even with the everyday challenges of being visually impaired, I have a lot to be thankful for this year. YOUR support and Lighthouse of Central Florida brought me an inch of character into a mile of possibilities. It made me passionate, excited, and prepared for the world ahead of me. I thank YOU again for being a part of Lighthouse's story and for making my transformation possible.
THANK YOU for your generous support. Your gift helps ensure that every child, youth and adult will continue to receive full, safe access to vision rehabilitation services in 2022.
With kind regards,
Izzi Guzman, Brass musician from Orlando
University of Miami '24 and Berklee College of Music '22