Lighthouse Works & Latch-Hook Rugs!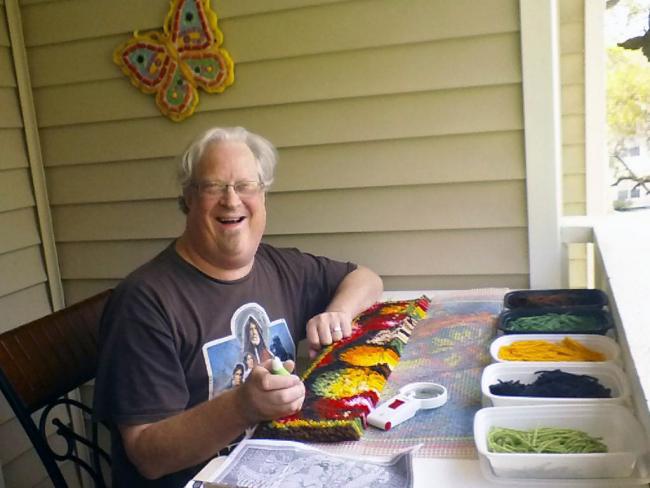 A few years ago when Todd LaFlame decided to get back into the work force, he knew it wouldn't be easy.  The economy was weak and he wasn't terribly confident potential employers would see past his low vision—despite his qualifications.
Todd decided that he needed something to help bolster his confidence.  He took the vocational rehabilitation (VR) class at Lighthouse Central Florida and received assistance in rewriting his résumé, and improving his interviewing and computer skills.

Todd connected with the Lighthouse mission instantly and was impressed by the overall culture and way in which Lighthouse sought to empowered its staff and clients.   Todd knew that he wanted a position with the organization.
Upon completing his VR classes Todd decided to apply for a job opening at Lighthouse Works—the social enterprise nonprofit connected to Lighthouse Central Florida.  Todd applied, went through the interview process and was eventually offered the job.  He is now employed by the 4Sight360 Call Center at Lighthouse Works as a Customer Care Professional.
"It was so meaningful for me to get back into the working world and earn a paycheck! It gave me an incredible sense of accomplishment to know that I'm helping to generate revenue that goes back to support programs that benefit individuals like me who live with vision loss."
Todd is also an artist who loves to make latch hook rugs—and he's really good at it!  He moderates a Facebook page dedicated to the art form and features much of his work on there. Todd wanted to express his appreciation to Lighthouse for empowering him to reenter the workforce. 
"I decided to give this incredible company a Lighthouse-themed latch-hook rug I'd made several years ago, as a way to say 'thank you'.  The Lighthouse mission is 'charting a course for living, learning and earning with vision loss' and that's just what they did for me!"
To see more of Todd's latch-hook rug art pieces, visit here.