Volunteer Spotlight: Tonda Corrente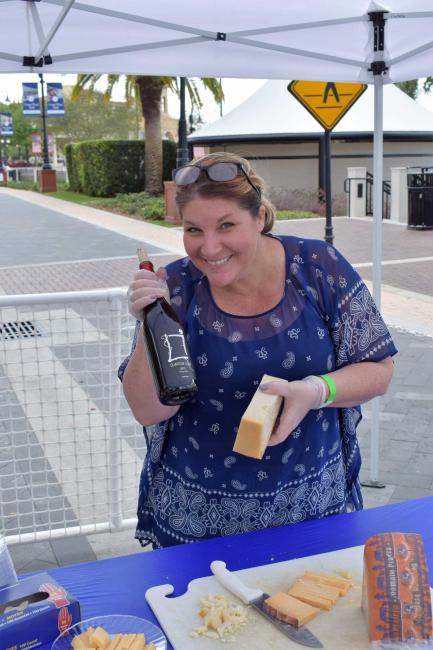 Central Florida native, Tonda Corrente, is the embodiment of epicurean living—she'll also admit there aren't enough hours in the day!
Known around town as 'The Cheese Lady', Corrente owns and operates La Femme Du Fromage, a specialty provisions shop located in Orlando's East End Market. 
Overseeing the day-to-day operations includes managing the shop's thriving catering service, which demands much of her time and attention. 
For the past five years however, Corrente has committed to donating several hours per year to help support the mission of Lighthouse Central Florida.
"I feel a particularly strong connection to the work that Lighthouse does to empower individuals who live with blindness and vision loss. I have an uncle who lives in Houston and runs his own business.  He's been legally blind since he was a junior in high school—and now what's left of his vision has progressively diminished—he has some light perception and can make out shadows."
"I've always admired how my uncle never allowed his vision loss to get in the way of accomplishing his dreams—or even hindered him in any way from performing the normal activities of daily living.  I recognize this same kind of empowered attitude in the clients that Lighthouse serves—and it is what made me connect so completely with their mission."
Twelve years ago the local entrepreneur started with a successful catering business. Along the way Corrente educated herself on different aspects of gastronomy and successfully established herself as a fixture on Orlando's culinary scene.
Corrente decided to focus on wine and viticulture. As her palette became more refined she began exploring how she could share with the wider community that glorious space inhabited by varietal wines and artisanal, hand-crafted cheeses. 
Several years ago Corrente began offering classes on how to best pair wine and cheese. The popularity of these fun, educational pairing classes spread and Corrente was soon approached by a developer to open a store in what is now East End Market. 
The attention and acclaim 'The Cheese Lady' was enjoying led the Young Executives Committee at Lighthouse to invite Corrente to conduct a version of her pairings for an event dubbed, Party in the Park, held at the Winter Park Civic Center.
Participants were invited to go under blindfold while Corrente walked them through a deeply immersive sensory experience featuring pungent goat cheeses and fruity Rieslings—plus every variety in between! Every sense but sight was engaged in these deliciously decadent demonstrations.
It was a huge success!  Corrente now conducts her blindfolded wine and cheese pairings annually at Lighthouse's Sight & Sole Walkfest—convened every March at Cranes Roost Park in Altamonte Springs.  She has also run a mini-version of the blindfolded pairings at Lighthouse's BLINK Experience—an onsite, hands-on exploration of how Lighthouse teaches, supports and empowers children, teens and adults living beyond the restrictions of vision loss and blindness.
"I love interesting events and I really enjoy featuring my wine and cheese pairings to all people, but when you can do it in a way that educates people on wine and cheese and also highlights, in a small way, the daily reality of someone who lives with vision loss or blindness—well, it's really a unique way to tie the two together."
Corrente feels an especially strong connection to Lighthouse's Early Intervention (EI) program, which serves babies and toddlers (0-5 years) who live with blindness or some form of vison loss.   The services provided by the EI program are critical in preventing unnecessary developmental delays due to vision impairment.
"As a mom, I understand the challenges and learning curve that all parents go through to best care for and raise their children.  If there exists the added challenge of caring for and raising a child who may live with a disability like vision loss, I can only imagine there's an added amount of strain—at least initially.  It's so incredibly reassuring to know that experts exist in the form of Lighthouse mentors that can offer support—not just to the child, but also to that child's parent or care giver in knowing how to best support and advocate for their child.  That is an incredibly meaningful resource to have in this community. "